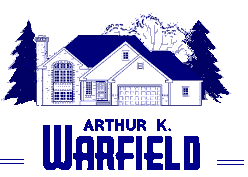 Real Estate & Insurance Services
since 1949

Alan K. Warfield
Broker-Owner

20 East Front Street
Media, PA 19063
(610) 566-7400
Fax: (610) 566-8955
alan@akwarfield.com

Use our Contact Form to ask about our services.

Map of A. K. Warfield's office location in downtown Media.

R.E. Broker # RB-029840-A
Insurance Broker # 135499
Broker/Appraiser #BA-000633-L
All pages © Copyright 2002-2016 Alan K. Warfield.
All rights reserved.